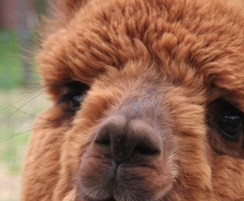 Baby Burton is out of our sorely missed Dulzura and by Snowmass Accoyo Campeonato.
While we grant you that he might possibly be mis-named, he really looked like a Baby Burton.  Not really sure why, but he did.  If we were to think of an alternate name for Baby Burton…well…we can't.
Baby Burton is Baby Burton.
And that's that.
Baby Burton's fleece invites you to snuggle your face deep inside and just take a little nap.  While we haven't actually taken a nap in his fiber, we totally could.  And he would probably let us.  He's that nice.
Baby Burton's fiber is crimpy and butter soft.  And he's a fabulous dancer to boot.
He has passed along these qualities to his daughters Jovie and Tink.